Come work with the team at Thrive!
Open Positions

:
Executive Director
If you are passionate about providing services to those in our community with mental health and housing needs, Thrive is the place for you! We are seeking a new Executive Director with a strong background in mental health services. The ideal candidate will have a desire to help move people from surviving to thriving and will do so with compassion and empathy. This individual must also have a personal commitment to, and/or lived experience in, advancing diversity, equity, and inclusion. Diversity, equity, and inclusion are very important to Thrive staff and board members. The Thrive Board of Directors have created a DEI committee to ensure these concepts are woven into Thrive's programs and that the organization is governed with DEI in mind. Click to read the complete DEI Statement.
Job Requirements
-Must be a licensed behavioral health clinician with a master's degree in a human services field.
-Must have a minimum of eight years successively responsible clinical and management experience in mental health or related field.
-Must possess a demonstrated understanding of the issues related to behavioral health, specifically severe and persistent mental health, homelessness, which includes professional experience, lived experience, and/or personal intrinsic commitment to ending homelessness; increasing financial management, housing, and other related skills to promote independence across all program participants.
-Must have a personal commitment to and/or lived experience in advancing diversity, equity, and inclusion.
-Must have a completely clean legal background as well as one free from any allegations of fraud or abuse by any behavioral health payor source, per current contracts.
-Must have a personal and professional financial background that will not negatively impact current and future federal grants.
Essential Job Functions
    The Executive Director will:
Assure that the organization has a long-range strategy which achieves its mission, and toward which it makes consistent and timely progress.
Provide leadership in developing programs, organizational and financial plans with the board of directors and staff and carry out plans and policies authorized by the board.
Promote active and broad participation by volunteers in all areas of the organization's work.
Maintain official records and documents, and ensure compliance with federal, state, and local regulations.
Maintain a working knowledge of significant developments and trends in the field.
      In Communications, the Executive Director will:
See that the board is kept fully informed on the condition of the organization and all important factors influencing it.
Publicize the activities of the organization, its programs, and goals.
Establish sound working relationships and cooperative arrangements with community groups and organizations.
Represent the programs and point of view of the organization to agencies, organizations, and the general public.
      In Relations with Staff, the Executive Director will:
Be responsible for the recruitment, employment, and release of all personnel, both paid staff and volunteers.
Ensure that job descriptions are developed, that regular performance evaluations are held, and that sound human resource practices are in place.
See that an effective management team, with appropriate provision for succession, is in place.
Encourage staff and volunteer development and education and assist program staff in relating their specialized work to the total program of the organization.
Maintain an inclusive climate which attracts, keeps, motivates, and nurtures a diverse staff. Ensures that the workplace is open and affirming for all people.
      In Budget and Finance, the Executive Director will:
Be responsible for developing and maintaining sound financial practices.
Work with the staff, Finance Committee, and the board in preparing a budget; see that the organization operates within budget guidelines.
Ensure that adequate funds are available to permit the organization to carry out its work.
Jointly, with the chair and secretary of the board of directors, conduct official correspondence of the organization, and jointly, with designated officers, execute legal documents.
Salary
Salary based on experience and education. Range will be shared with qualified candidates during the interview process.
Benefits
This is a full-time position with benefits including: Medical, Dental, and Vision insurance, access to Employee Assistance Network for mental health services, Paid Time Off in addition to multiple paid holidays, and retirement plan.
Please download, complete and email the application to [email protected]. 
Applications remain active for 90 days. For questions or to inquire about current opportunities, please contact Teresa Drevar at:

Kristen Martin MSW, LCSW (she/her/hers)
Kristen Martin has been the Executive Director of Thrive since November, 2011. She often describes this position as her perfect niche. She enjoys being able to stay connected to the individual participants as well as seeing the big picture of where the agency is going as a whole.
Kristen was born locally but a job transfer for her father required relocation to Pennsylvania for a majority of her life. Henderson County was always home and she spent as much time as possible with her extended relatives. She and her husband planned their wedding on family property in Flat Rock and eventually were able to relocate to that property in 2009.
After obtaining her undergraduate degree in Sociology with a concentration in Criminal Justice, she went onto complete a Master's in Social Work. She has worked in varying roles within the mental health field since 2003 as a Licensed Clinical Social Worker. Prior to her start at Thrive, she provided group and individual counseling to individuals experiencing mental health symptoms. She also provided supervision and training to others in her field.
When she isn't working, Kristen enjoys spending time with family and friends doing outdoor activities. You can often find them participating in 5k races for their favorite charities or taking a hike on local trails.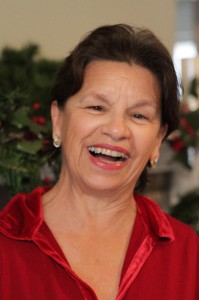 Teresa Drevar
Teresa Drevar has been the Administrative Services Director of Thrive since 2009. She enjoys advocating for people with mental health struggles while assisting in managing the agency's financial responsibilities.
After obtaining her associates degree in Business Administration at Blue Ridge Community College, she went onto complete a certificate in Human Resources. She has worked in mental health field since 1992. Prior to her start in mental health she was a corporate bookkeeper in Washington D.C. After marrying she returned to this area.
Teresa is a native to Hendersonville and enjoys participating and supporting local businesses and events. When Teresa was raising her daughters she was the co-owner of a bakery called Wildflour in Saluda. She greatly enjoyed spending her days sharing her talents with customers.
Teresa enjoys gardening and participating in outdoor activities. She often tells others how therapeutic it can be to work with your hands in soil and to see something grow and flourish. Teresa also takes pleasure in spending time with her husband, daughters, and grandchildren.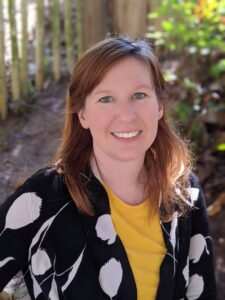 Kristin Dunn (she/her/hers)
Kristin Dunn is the Housing Director for Thrive. She first arrived in Western North Carolina to further her education at Appalachian State University with degrees in English and Global Studies. Since then, Kristin has spent most of her time working at agencies throughout North Carolina including homeless shelters, a domestic violence shelter, and a residential facility for adults with disabilities. She most recently led a youth development agency for six years in Hendersonville. 
Kristin grew up all over the globe and dreams of traveling more one day. She currently serves as a commissioner for the town of Laurel Park, is a licensed foster parent, and spends her free time with her husband and daughter.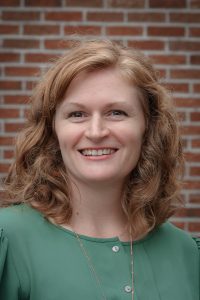 Tracey Gruver, MA (she/her/hers)
Tracey Gruver, originally from Ohio, has lived in North Carolina since 2004. A former public school teacher, Tracey graduated in December, 2018, with a Master's degree in English from Western Carolina University where she studied literature and technical and professional writing.
Initially coming on board as a part-time grant writer, Tracey has made the transition from education into nonprofit development with this new full-time role as Development and Communications Director. Tracey will focus on diversifying funding sources for Thrive by applying for federal, state, and local grants as well as increasing donations from local businesses and individual donors.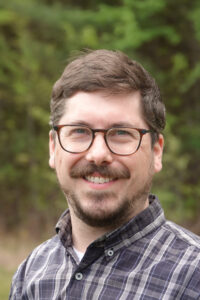 Adam Olenik (he/him/his)
Adam has been the Thrive Clubhouse Director since 2015. He started as a Clubhouse generalist when he first moved to North Carolina in 2013. Adam is originally from Western Pennsylvania, and he attended Pennsylvania State University for his B.A. in Psychology with a minor in Art History. He then worked for Sheppard Pratt Hospital in Maryland as a direct care staff and discharge planning coordinator. Adam moved to Asheville, North Carolina, after visiting family in the area for many years. He fell in love with the mountains and the surrounding area.
Adam is passionate about serving and advocating for those with mental illness. He enjoys working with those who need support; Adam helps them to grow and gain their independence, with over 15 years of experience in the field of behavioral health. In his free time, Adam enjoys spending time with his wife, family, and his dog, Otis; he enjoys hiking, kayaking, nature photography, playing hockey, and seeing live music. He continues to work on his gardening skills, both at the Clubhouse and at home in his personal garden.