Board Service Information
Who can serve on the board at Thrive? Anyone who cares about our mission!
The Thrive Board of Directors are volunteers from all walks of life who have a passion for mental health and housing in our community. Board members help to make sure the organization is thriving by overseeing the daily operations. They serve on committees to help with things like fundraising or finances, and they also contribute to Thrive financially. Each board member gives to Thrive at a level that is comfortable for them.
If you think you might like to serve on the board, contact our Executive Director, Kristen Martin at [email protected].
Current Board Members
Damian Chipriano
Chair and Ex-officio member of all board committees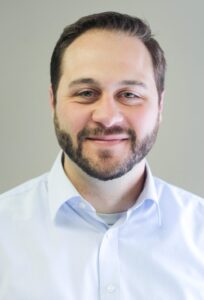 Damian Chipriano is not a native of western North Carolina but considers it his home since 2012. He received a Bachelors of Science degree in Mathematics from The Pennsylvania State University and has worked in the healthcare industry for most of his career. Currently, Damian serves as the Financial Services Director for Carilion Clinic whose main hospital is located in Roanoke, VA. Previously, he was the Manager of Decision Support and Cost Accounting as well as the financial liaison of the Behavioral Health service line for Mission Health in Asheville, NC. Outside of work and being an advocate for several non-profit organizations, Damian likes to travel with his wife, Jessica, and their rescue dog, Abbey.

Pauline Carpenter
Vice-Chair of the Board and Chair of the Board Development Committee, Co-Chair of the Diversity, Equity, and Inclusion Committee, Member of Policies Committee and Let Love Brew Committee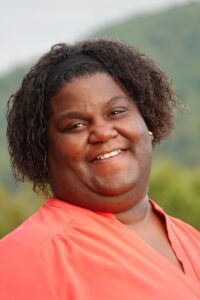 Pauline Carpenter is an active advocate in everything she does. She possesses a background in nonprofit programming/fundraising/program funding, government and private programs (state, federal, and local level), human services and healthcare. Her current activities include: Dialysis Patient Citizens (an active Kidney Community group), United Way of Henderson County (Rising Leaders, Women United), Athena Committee (Henderson County Chamber of Commerce), along with other board service and volunteer projects within her community and surrounding areas.  
Pauline has worked for Resource Corporation of America (RCA) since 2010, where she currently is a Regional Director of Operations. Pauline manages teams in NC, TN, KY & GA that work within hospital systems to focus on capturing at-risk dollars and converting them into sources of revenue for these facilities. 
In her spare time, she loves spending time with her niece and nephews, Godchildren and extended family. She has a passion for reading and her favorite pastime activity is shopping. 

Terry Andersen
Treasurer of the Board and Finance Committee Chairman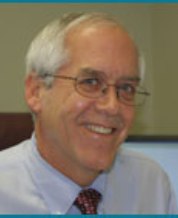 Terry is a Partner of a local CPA firm with offices in Hendersonville and Brevard.  He is a graduate of University of North Carolina – Chapel Hill.  He has been treasurer of various nonprofits over the last twenty-plus years including Four Seasons Hospice, Interfaith Assistance Ministry, The Free Clinics, Carolina Village and Thrive.  He is also Finance chair and Treasurer for Grace Lutheran Church. Terry and his wife, Jane, have 2 adult children.

DeLaina Blythe Lewkowicz 
Secretary and Member of the Board Development Committee, Facilities and Services Committee, and Let Love Brew Committee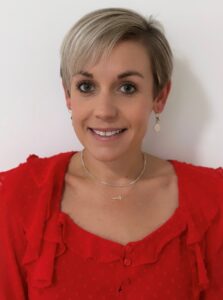 DeLaina is an eighth generation Henderson County native. After graduating from UNC Charlotte and marrying, she returned to Hendersonville to raise two boys. She works as a third generation member in a family construction business (Diboco Fire Sprinklers, Inc.), as well as serving as the HR Director for The Bridge Church- Hendersonville.
DeLaina is passionate about brain health education across the community and co-founded First Responder Ministry-Henderson County. She actively works with community partners in hopes of making the largest impact on the overall health of our county. She enjoys spending time outside and visiting new places with her family and friends.

Bryan B2 Byrd
Most recent past Chair of the Board and Member of Policies Committee, Community Outreach and Fundraising Committee, and Bids & Blues Committee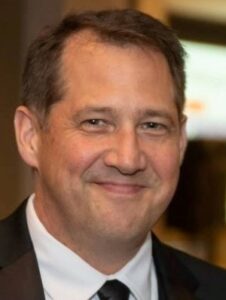 Bryan has lived in Hendersonville since 2012, however he has been exploring the mountains and communities of Western North Carolina his whole life. He is the owner of B² Realty and is a member of Trinity Presbyterian Church. Bryan enjoys serving as Emcee for local civic and nonprofit events and hiking in the mountains. He has two sons attending the University of North Carolina Charlotte.

Marcus Jones (he/him)
Chair of Facilities and Services Committee and Member of Finance Committee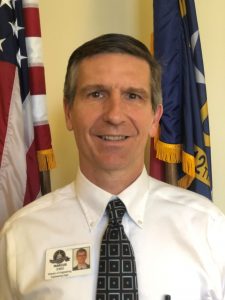 Since 2007, Marcus has served Henderson County as the County Engineer and has been in the Public Works field for over twenty years in both private and public roles.  His education took him to UNC Chapel Hill for a business degree and NC State for a degree in Civil Engineering.  To complete the triangle, he was commissioned as an Infantry Lieutenant through Duke ROTC.  He pulls for Carolina.  Also, he has volunteered for the following non-profits in the County: Kiwanis, United Way, Camplify and The Free Clinics.  Marcus is married to Kendall and they have two adult children.

David Maupin
Member of the Finance Committee, and the Diversity, Equity, and Inclusion Committee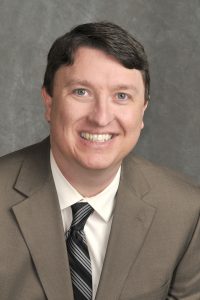 David Maupin joined Edward Jones Investments in 2014 as a Financial Advisor after spending 15 years in corporate finance in various roles. He serves on the board of directors for The Council on Aging of Henderson County and the Hendersonville Lions Club. He volunteers with the United Way of Henderson County as a funding panel member and as a loaned executive. He is also a member of the United Way's Small Business League. David earned his BBA in Accounting in 1999 and his MBA in 2002 both from the University of North Alabama. He enjoys spending time with his boys and doing charitable work.

Preston Blakely (he/him)
Member of the Diversity, Equity, and Inclusion Committee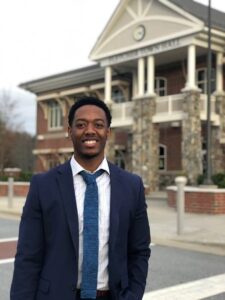 Preston is a lifelong resident of Western North Carolina. He was born in Asheville, NC, and raised in Fletcher, NC. He earned his Bachelor of Arts from UNC- Greensboro and his Master of Public Affairs from Western Carolina University. Currently, Preston works for his family business, Quality Janitorial Group. In this role, Preston manages employees and handles day-to-day office duties. Additionally, Preston was elected elected Mayor of Fletcher in November, 2021, after serving as a council member for two years. As Mayor, he presides over meetings, helps set goals, and assists in making decisions surrounding the Town of Fletcher.  In his spare time, Preston enjoys spending time with his dog, Nala.

Kenett Melgar (he/him)
Co-Chair of the Diversity, Equity, and Inclusion Committee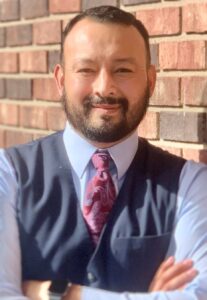 Kenett is the Vulnerable Populations Manager for Blue Ridge Health, an FQHC that serves 9 counties in WNC.  For the past 18 years he has worked in community health with a special focus on underserved populations. He graduated with a Masters in Public Health from UNC Chapel Hill. Kenett enjoys spending time with his children and exploring all the beauty that WNC has to offer.

Victoria Cortes
Chair of Community Outreach and Fundraising Committee, Member of Bids & Blues Committee, and Let Love Brew Committee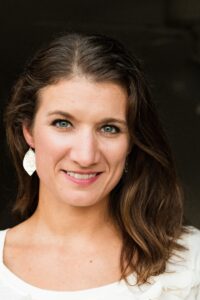 Victoria is a NC native, born and raised in Guilford Co. She received a degree from Western Carolina in Business Administration in 2001. She has many unique career experiences that have molded her into the strong woman she is today.  She has worked for AmeriCorps in multiple states, the NC Forest Service, and NC DENR.
After moving to Hendersonville in 2012, Victoria volunteered at Edneyville Fire and Rescue as an EMT, and completed the Henderson Co Fire Academy, which led her to a career in firefighting with the City of Hendersonville Fire Department.  Victoria joined Henderson County in 2021 as their Emergency Management Planner.  In her free time, Victoria enjoys exploring the mountains with her partner, Patrick, making art with her daughter, and teaching her bonus son about gardening.

Taylor Nunez (she/her)
Member of the Diversity, Equity, and Inclusion Committee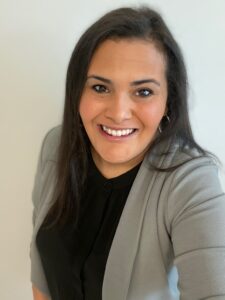 Taylor Nunez is a Georgia native and a Georgia Bulldawg fan who came to Hendersonville in 2019 and now proudly calls Henderson County her home.  She is an Assistant Vice President – Branch Manager at a local community bank and has 16 years of retail management experience.
Taylor supports her community and passionately advocates for the homeless community, resources for foster children, and is an ally of the LGBTQA community.  Outside of work, Taylor likes to go on adventures with her son, explore the mountains and local eateries with her husband, Stephan, and hike with her elderly rescue lab, Riley.

Board members can access board-specific info HERE.